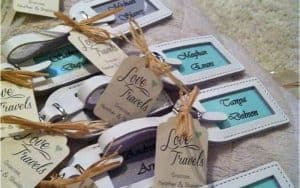 Weddings are beautiful celebrations of love, and couples always strive to create memorable experiences for themselves and their guests. One way to make your wedding truly unforgettable is by choosing unique wedding souvenirs that reflect your personality and style. These special tokens of appreciation not only show gratitude towards your loved ones but also serve as cherished keepsakes that will be treasured for years to come.
1. ???? Customized Glassware: A Toast to Forever
Toast to your love and thank your guests with customized glassware as wedding favors. From elegant champagne flutes to quirky shot glasses, personalized with the couple's names or initials, these souvenirs will surely be adored. Each time your loved ones raise their glasses, they will be reminded of the joyous occasion they shared with you.
2. ???? Message in a Bottle: Sealed with Love
Add a touch of whimsy to your wedding by presenting your guests with a heartfelt message in a bottle. Whether it's a personalized note, a meaningful quote, or a handwritten thank-you message, this unique souvenir will captivate your guests' hearts. Encourage them to open it whenever they need a reminder of the love and joy they experienced on your special day.
3. ???? DIY Succulent Kits: Love Grows
Embrace your green thumb and give your guests the gift of life with DIY succulent kits. These adorable little plants not only symbolize growth and prosperity but also make for charming home decorations. Include a small note with care instructions and watch your guests' love for these tiny living reminders blossom.
4. ????️ Customized Wedding Illustrations: Frame Your Love
Capture the essence of your wedding day in a beautifully designed custom illustration. Whether it's a portrait of the happy couple or a scene depicting a memorable moment, these unique wedding souvenirs will become treasured pieces of art. Frame them and let your guests take home a piece of your love story.
5. ???? Mini Globe Keychains: Love Knows No Boundaries
Symbolize your love's journey with mini globe keychains. These unique wedding souvenirs represent the adventures you've had and the ones yet to come. Engrave them with your wedding date or a special message to remind your guests that love knows no boundaries.
6. ???? Personalized Candy Bars: Sweet Memories
Treat your guests to a sweet surprise with personalized candy bars. Have customized wrappers made with your names and wedding date, and choose from a variety of delicious flavors. These delectable delights will not only satisfy their taste buds but also leave a lasting impression of your special day.
7. ⌛ Time Capsules: Memories Preserved
Encourage your guests to be a part of something extraordinary by creating a wedding time capsule. Provide slips of paper and pens, and ask them to write down their wishes, predictions, or favorite memories from the day. Seal the time capsule and open it on a milestone anniversary, allowing you to relive those cherished moments once again.
| Souvenir Idea | Description |
| --- | --- |
| Customized Glassware | Elegant and personalized glassware for a toast to forever. |
| Message in a Bottle | Heartfelt messages sealed with love. |
| DIY Succulent Kits | Charming succulent plants that symbolize love and growth. |
| Customized Wedding Illustrations | Beautifully designed illustrations capturing your love story. |
| Mini Globe Keychains | Keychains representing the journey of your love. |
| Personalized Candy Bars | Delicious candy bars with customized wrappers. |
| Time Capsules | Preserving memories for future enjoyment. |
FAQs: Answers to Your Burning Questions
1. Can I personalize the wedding souvenirs with our names and date?
Absolutely! Personalization adds a special touch and makes the souvenirs more meaningful. Many suppliers offer customization options to ensure your wedding favors reflect your unique love story.
2. Where can I find suppliers for these unique wedding souvenirs?
You can find suppliers online through various wedding websites and marketplaces. Additionally, local craft stores or specialized wedding boutiques may carry these unique souvenirs or can recommend reliable suppliers.
3. Are these unique wedding souvenir ideas budget-friendly?
While the prices may vary depending on the specific souvenir and customization options, there are usually options available to suit different budgets. DIY options can also be a more cost-effective way to create personalized wedding favors.
4. How can I incorporate these unique souvenirs into my wedding theme?
Choose souvenirs that align with your wedding theme or reflect your personal style. Consider colors, motifs, and materials that complement your overall decor. For a cohesive look, coordinate the souvenirs with other elements such as table settings and floral arrangements.
5. Can I order samples of these unique wedding souvenirs before making a final decision?
Yes, many suppliers offer sample orders to ensure you are happy with the quality and design. This allows you to see and feel the souvenirs firsthand, helping you make an informed decision.
6. How far in advance should I order these unique wedding souvenirs?
It's recommended to start the ordering process at least three to four months before your wedding date. This allows ample time for customization, production, and delivery, ensuring you receive the souvenirs well ahead of your special day.
7. Can I combine multiple unique wedding souvenirs to create a curated gift set?
Definitely! Mixing and matching different souvenirs can create a unique and thoughtful gift set for your guests. Consider packaging them in coordinating gift boxes or bags for an elegant presentation.
Conclusion: Cherish the Memories Forever
Choosing unique wedding souvenirs adds a delightful touch to your special day and provides your loved ones with lasting memories. Whether it's personalized glassware, adorable succulent kits, or heartfelt messages in bottles, these souvenirs will serve as delightful reminders of the love and joy shared on your wedding day. So, embrace your creativity, explore various options, and leave your guests in awe with these unforgettable tokens of appreciation.